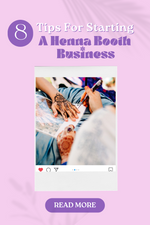 Tips For Starting a Henna Booth Business
Starting a henna booth business can be a rewarding and creative endeavor. Here are some tips to help you get started:
Research the market: Research the market to understand the demand for henna services in your area and to identify where you would like to situate yourself as an artist. Research the different types of henna services that are popular, such as bridal henna, festival henna, and henna for special events. Of course, practical experience within these different areas will help you decided what you truly love doing as a henna artist. 
Create a business plan: Create a comprehensive business plan that outlines your goals, target market, costs, and marketing strategy. This will help you stay organized and on track as you start your business.
Obtain necessary licenses and insurance: Make sure you obtain all necessary licenses and insurance for your business. This will help protect you and your business in case of any accidents or liability issues. A business License is a must in most countries and some events may require you to carry insurance. The latter is always a good idea to have but not always an absolute requirement.
Choose a location: Choose a location for your henna booth business that is convenient and accessible for your customers. Consider setting up your booth at festivals, markets, or events where there is a high concentration of foot traffic. In cases of low attendance I always recommend to give someone a free design just to get the ball rolling. When people see it being done they are more likely to want one as well!
Purchase equipment and supplies: Purchase all the necessary equipment and supplies for your henna booth business, such as henna powder, cones, applicator bottles, and aftercare products. Make sure you purchase high-quality products to ensure the best results for your customers.
Build your portfolio: Build a portfolio of your work to showcase your skills and experience. This will help you attract new customers and showcase the quality of your work. If you have an event soon and need design examples for your clients, you can use the designs from our latest henna design ebook, perfect for henna booth events and festivals!
Develop a pricing strategy: Develop a pricing strategy that is competitive (but don't sell yourself short due to lack of confidence!) and reflects the value of your services. Consider offering special deals and discounts to attract new customers.
Market your business: Market your business through social media, word of mouth, and other marketing channels like google, yelp and gigsalad to reach your target audience. Offer special promotions or discounts to encourage new customers to try your services.
By following these tips, you can successfully start a henna booth business and build a loyal customer base. Remember to stay organized, stay focused, and have fun as you build your business!